Hello! My name is María, Official Guide of Galicia and Art Historian, with more than 20 years of experience in the world of tourism.
With the recent creation of Visit Galicia, I have tried not only to create an informative space, but also to serve as a destination ambassador, guiding those who are encouraged to know first hand all the corners and curiosities of my land. 
Of course, a fundamental part of this project is the great team of official guides and colleagues with whom I collaborate. Thanks to this collaboration, we can offer unique experiences adapted to all tastes and interests, and in different languages! 
Gastronomy, historical and artistic heritage, tradition, landscape and nature are some of the many areas that you can discover with us in Galicia. Are you up for it?
My personal trajectory as Official Tourist Guide in Galicia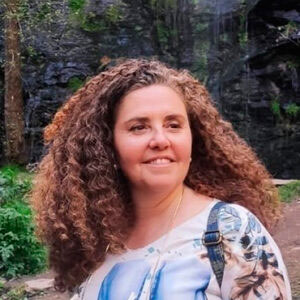 I am going to try to summarize my professional and academic career, which began studying " Tourism" in A Coruña.
Even before finishing my studies I had a clear idea of where I really wanted to focus my working life, so I went to Madrid to do a Master's Degree in "Tourist Information", and I really loved it!
I started to work doing some tours as a tour guide in Spain. Soon I settled in Santiago where from then until now, I teach and explain as an Official Guide of Galicia every corner of my Galician land.
I have also had time during these years to expand my academic training with a degree in "Art History". And everything related to the world of Art fascinates me, without forgetting a good book or being a "cook" in my spare time!
Another of my hobbies is gardening, both manual work and visiting the wonderful historic gardens we have in Galicia. Also, as a good Galician, I am convinced that our gastronomy is the best and I can never say no to an Albariño, Ribeiro, Godello... or an Estrella de Galicia beer, of course!
Occasionally, I have given training courses for official organizations in Galicia and tasks of Tourist Information in Tourism Offices, although I have never abandoned my initial work and my great passion: guiding my great passion: guiding tourists of very different nationalities: Spanish, British, American, Portuguese, Nordic, Dutch .... and a lot of other countries.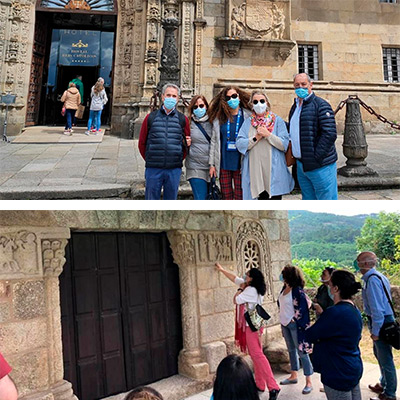 What is the purpose of Visit Galicia?
After this brief summary of "my life", I would like to tell you that the creation of Visit Galicia was motivated by two reasons: first, to be able to offer you what we do best: to explain this wonderful Galician land through our guided tours and excursions.
We offer you a wide variety of options so that you can choose the one you like the most and adapt it to your interests, or even if you prefer, we can design a totally customized itinerary for you.
The second, but not less important, is to offer basic and useful information through our Blog. In this section of our website you will know in a general way many of the most interesting places to visit if you want to visit Galicia. We encourage you to take a look at them.
Tourist guides in Galicia: Why choose us?
We have been working as tour guides for more than 20 years. We deal with thousands of clients a year of all ages, countries, cultures...
During all this time we have achieved great experiences with our customers. We focus on providing the best information and adapting to you.
We adjust to the type of client: schedules, languages, age, interests of the visitor... With us, each visit is a personalized experience.
For us, a guided tour should help each visitor to understand both the historical and artistic value of the places we visit.